iEvent Services
iEVENT is a Webcasting Services solution that makes it possible to extend your audience reach(Live Webcast) and event lifespan in a cost effective and efficient way. Watch the event again (On-Demand Webcast).Our team services equips you with a team of trained technicians who work on-site to webcast your event. You simply schedule your presentations and our team takes care of the rest.
เกี่ยวกับ Jupiter Innovations (Thailand) Co.,Ltd.
We develop online, Web-based software applications, offered these application as a service to partners and corporations to enhance the impact Thailand's MICE industry to the world and to create a sustainable presence for Thailand's MICE industry to compete efficiently and effectively in the international arena.
ขั้นตอนการขอรับสนับสนุน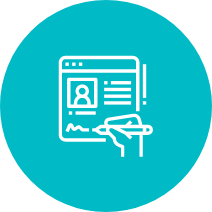 1. ลงทะเบียน
ลงทะเบียนเพื่อค้นหานวัตกรรมและบริการ

2. เลือกบริการ
เลือกนวัตกรรมและบริการที่ท่านสนใจ

3. ชำระเงิน
ทำการชำระเงินกับผู้ให้บริการนวัตกรรมโดยตรง

4. แลกรับสิทธิ
ทำการใช้สิทธิประโยชน์หลังการซื้อขาย